Harloe there again, and Im back with more modern military news
Well today feature is contributed from Joshua Foong, my good ol buddy and his M2A2 Bradley from the Forces of Valour. It is a really cool shot wif the urban background at the back. I must say, it has a great look to it. The Colour tone also gives it a really dirty and dusty atmosphere which makes the pic look cooler.
And here it is.. The m2A2 Infantry Fighting Vehicle.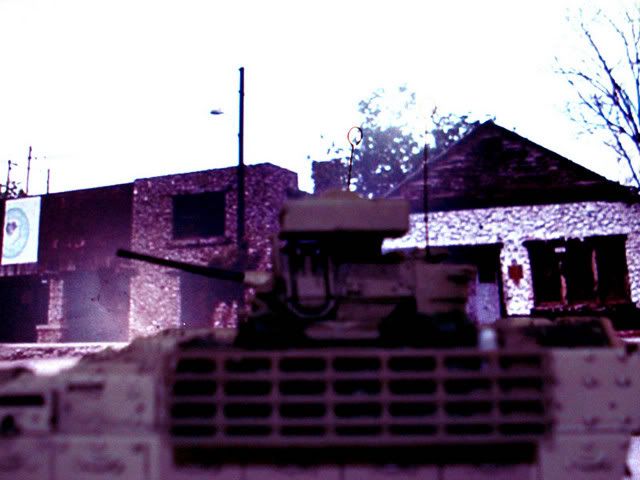 As u can see, the side of the M2A2 has a open-air grilled compartment for troops to store their equipment. This is preferbly not the case when a full battle gunfight is in progress as many of their equipment might be damaged from the shrapnels and bullets.
In any case.. the M2A2 Vehicle has proven in at least more than 2 conflicts that it is battle-worthy and deadly. I might have mentioned before and that is, with its 25mm Bushmaster Cannon, and an ability to store 6 man, it is a vehicle with great capabilities and also can keep up with armoured elements.
Onto other topics, i am in mid-process of painting my M1A2 tanks. Recently, i needed to restock my paint and hence there is a halt in progress of my painting for my military models, but as for now, i am back on track and ready to paint them again.
Other than tht, I am very keen to acquire the game, Call of Duty 4 with it modern military warfare aspect and great features in the gameplay. It has good single player gameplay with a unique gaming system and also and incredible 9.5 rating on gamespot. Go check it out.
CALL OF DUTY 4 is the talk of the town for games and it is also the only Call of Duty that is set in Modern Warfare Era.