And so my final view of the Adelaide Class a.k.a O H Perry Class Frigate and the Russian Sovremenniy Destroyer.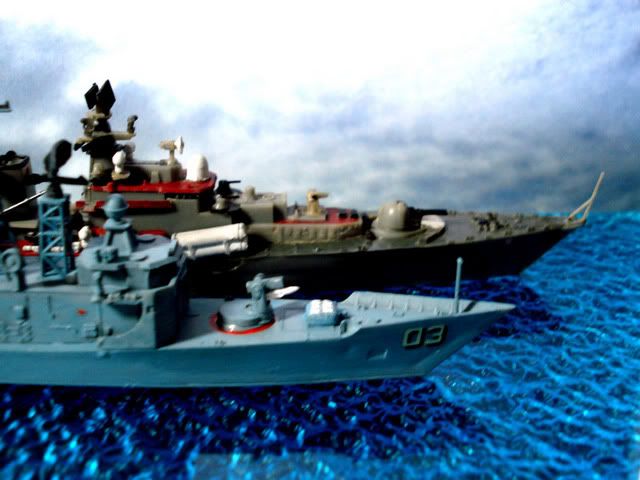 The two warships take their final sail together before they part their ways on their own seperate journey in the vast ocean with conflict and tension solved and settle between the two sides.
Notice my converted VLS system mounted on the O H Perry class Frigate to identify it as the exact Adelaide Class Frigate know as the HMAS Sydney. I believe i have mentioned it before, but till now im still rather satisfied at my conversion. I do look forward to the time when i tackle on the Pyotyr Veliky Cruiser and make it look even nicer than my plain old Sovremmenniy.
This is so definitely Nerd talk. And so as my exams are over.. Its time to tackle all projects and settle it before the year ends.. Gonna be tough.. but i gotta do what i gotta do. First thing will probably be my re-paint job i will be doing on the armor vehicles.
On top of that, i will be starting to take my new photoes and themes for my military collection. Hopefully, My buddy, Josh will contribute his helpng hand sand camera expertise to come up wif the new set of photoes for my military and other collection
Will keep u peeps updated soon.