Hey Guys
Here's wishing all of you a HAPPY NEW YEAR, and all the best as we continue on into a new decade!
Today we have another shot of JQ's Battlefield Evo PLA Ground Forces squad, wielding a variety of weapons and ready to engage the enemy...the soldiers are pre-painted 1:65 miniatures which come with rules and are ready to play right out of the box.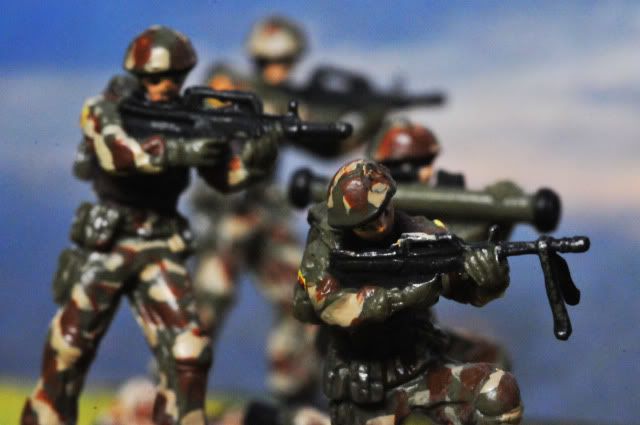 The soldiers carry a QBB 95 machine gun, PF 98 anti-tank rocket launcher, and 2 QBZ 95 assault rifles.
Apparently, some modelers have proceeded to modify the figures themselves, and examples I have seen fired missiles (with smoke trails) added onto anti-tank soldiers and APCs. Sometimes I just wish I had the time to sit down and really learn how to do these things...as they make the figures look much better than before. Examples of conversions of units in Battlefield Evo:
More examples can be seen at this conversion contest forum thread:
http://www.evocommand.com/forum/viewtopic.php?t=1271&start=0
Well, it's time for me to hand over the blog to compatriot JQ, and thanks again for coming down and continually supporting the blog! Do take care, and see you guys soon!