Hey Everyone
Hope you all had an enjoyable time over the past Christmas weekend...which is infamous for crazy shopping and maddening traveling, but also holds special significance for some (like me) in the form of Jesus' birthday and the gift of salvation. I'm curious, how many of us actually buys military toys/models for our friends and family?
Today we're taking a slight departure from the Fuchs and moving onto the soldiers of the PLA ground forces, who remain the largest standing army in the world, and have put in considerable modernization efforts to catch up with their contemporaries.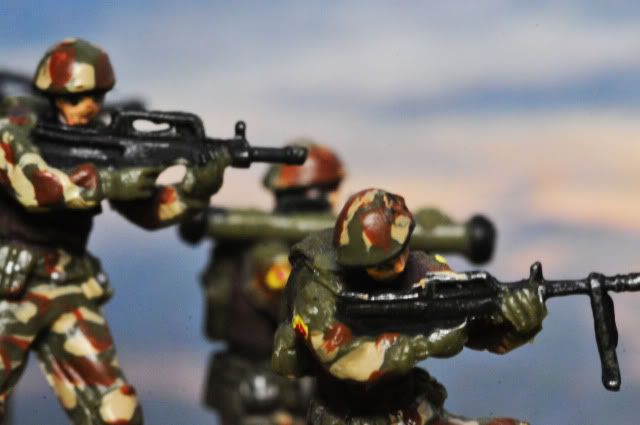 If you'd like to read up more about what's going on in the PLA, there's a database website (which sounds rather official to me) that you could read up about a lot of things, such as write-ups on their equipment and blogs about military events.
http://www.sinodefence.com/
While I was snooping around, I also found out that China enjoyed very close political relations to the US in the 1980s (to counter the Soviets), and China actually acquired Blackhawk helicopters from the US during that time...in spite of the Tiananmen crackdown in 1989 and consequent US sanctions, the PLA was able to keep the Blackhawks in flyable condition, taking part in multiple exercises and high altitude missions (a few were lost to crashes and pilot errors).
More info can be found here:
http://www.sinodefence.com/airforce/helicopter/s70.asp