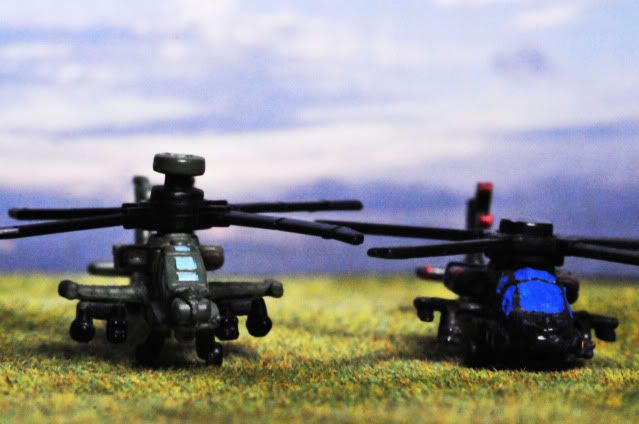 Here we have the AH-64D LongBow on the left and the AH-64C Apache on the Right.
While they do not look as close as they are shown in the picture. The Ah-64C and Ah-64D in real life are pretty much the same helicopter.
Unfortunately, Micromachines failed to make a proper scale of both helicopters. The Longbow is distinctively differentiated from the Normal Apache by its large radar dome on the helicoper's main rotors.
The elevated position of the radome allows detection and (arcing) missile engagement of targets even when the helicopter itself is concealed by an obstacle (e.g. terrain, trees or buildings).
Further, a radio modem integrated with the sensor suite allows a D-variant Apache to share targeting data with other AH-64Ds that do not have a line-of-sight to the target. In this manner a group of Apaches can engage multiple targets but only reveal the radome of one D-variant Apache.
Just an extra info would be that the Longbow on the left is Joshua's while the Apache on the right is mine. The ufnny thing is that Joshua's Longbow looksmuch more like the Ah-64 than mine as my cockpit is way fatter.
While military enthusiast like me can tell such a difference easily, there are more detailed military enthusiast that scratch build model kits and can tell the disparity of various model kits that i hardly even noticed. Not too long ago, i was in the
http://www.modelwarships.com/
website forum and it was discussing on the disparity of scale for the Shanghai Dragon Arleigh Burke Kit.
Such in-depth research really amazes me at times and makes me aspire to do be better which bring me to the part that I am organising my military kits and models so that i can get ready to take pictures wif Josh. Furthermore, i wanna do my models in an intensive manner as i have not for a long time.
In any case, Hope u have liked the 4 weeks of entries that i have posted. Josh is taking over for now and will be doing lots of interesting entries too.
Stay tuned and thanks for the constant support.