I seem to have a thing for the Blackhawk copters. They looks so sleak and robust.. and yet at the same time , they represent the modern era of combat transport helicopters that are highly adaptable to any terrain and to any mode of operation.
Here is yet another pic of the helos on the ground with a more dynamic and natural contrast of colours. This time, it is a Sunrise picture.. and it looks good with the helicopters. Hope u like it! Enjoys..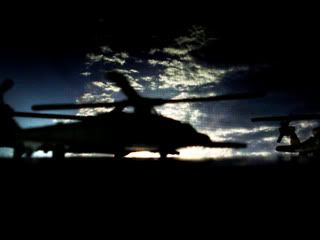 Sunrises on the BLackhawks
On a sidenote, i have prepared to finish the Mig 29 during my stay overseas. Today, i shall finish all the paint jobs and convert of all my micromachines and add yet another accomplished project from last year. Still contemplating on what more to bring for my military collection. But i tink i will just stick to the Mig 29 first.
My Fren's parent got me a really cool shirt on models though. Its a nice design of a sprue wif many air to air missiles on it.. Real awesome.. Will show u all soon. :D
Till next entry.. Cheers