Hello all again. Finally back in action after the long exam period. So its back to more pictures and more military collectibles and models. Oh yeah
Since i shall be doing a few photoshoots with My buddy, Joshua, his collectibles shall be my feature of the day.
Made by Alvis Vickers, this 7.9 million USD British Monster of a Main Battle Tank, the Challenger 2, packs an awesome punch with its 120mm cannon and classified Chobham armor. It has a crew of 4 and travels at a speed of 37mph or 59 kmh. On top of that, it has proven worthy in the Iraq War and has a very good record in terms of survivablity in battle.
I present to you, the Challenger Tank 2 in Black and White.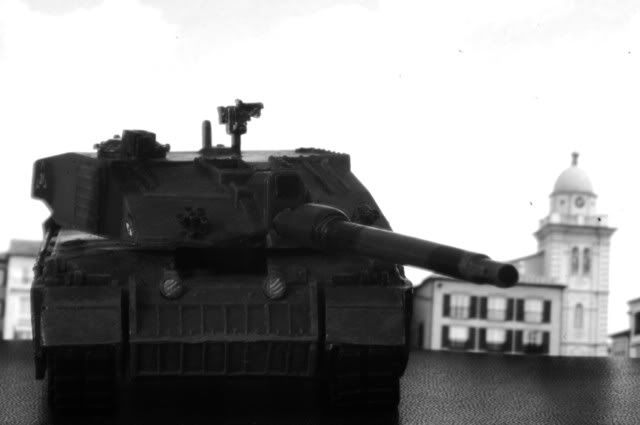 Josh's Challenger Tank
On a Side Note, I have already finish my Mig 29 and i have already done my paint upgrade for my FOV Soldiers. Need to put the finish touch on my Battlefield EVO Soldiers so i can proceed to work on my next few projects for my military collection.
On top of tht, i seem to be running out of space to display stuff yet again for my Military collection. Might need to think about actually getting some Plastic Cases to create more "top"level spaces, or fully utilised wasted vertical space. But of course, that will also depend on my finances. :D
Till next entry. Cheers