Hey Everyone
Today we have the final feature of JQ's F117 model, this time with a portrait perspective as it flies by in the sunset...from this angle the shot captures the 'awkwardness' of the F117's design, as it became an icon in fighter technology of the '90s after its public announcement that occurred in 1988, about 10 years since the decision was made to undertake full development of the aircraft.
I wonder...would anyone want to venture in buying a Nighthawk now? Not sure if the US is interested in selling that kind of technology to another country...even if it is considered 'old', stealth fighters are still a technological niche that is dominated by the US.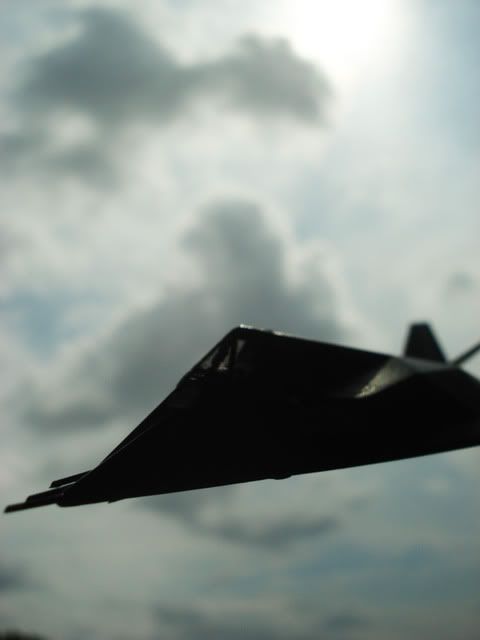 Interestingly, the F117's stealth technology presented an unique 'challenge' to friendly planes too. During the Kosovo War, a F117 was escorted by a wing of F15 Eagles during a strike run. The Eagles were notified of the Nighthawk's presence, but the problem is...they couldn't even detect the plane at all! It so happened that the Eagles met a Yugoslav Fulcrum, and one of them shot an AMRAAM missile...luckily the missile barely missed the Nighthawk that flew in between them, and managed to down the Fulcrum in the end. It was said the missile simply just flew past the Nighthawk's cockpit...
Well, it's about time for me to hand over the blog to JQ, and it has been my honor to type on this blog for your military interests. Thanks for reading, and give a good cheer to...JQ!