Hey Everyone
Thank you for coming down to this corner of the internet, and thanks also go out to JQ who provided us with a good ol' salvo of articles on the pics we have taken of our miniature micromachines.
This time, we are continuing with our slew of Harrier pics, this time a closeup on the cockpit of a 'Terror Troops' AV8B Harrier II.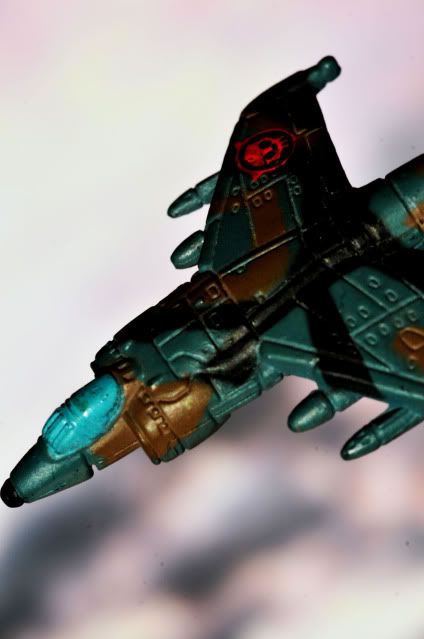 The American developed Harrier II is currently deployed by USMC, Spainish navy (Armada Española) and the Italian navy (Marina Militare). As we know, there are different variants of the harrier jet, with the Harrier II starting as a joint US-UK (McDonnell Douglas and Hawker Siddeley) project until the British pulled out due to financial constraints (due to over-runs from the Rolls Royce engine), only to later return and develop a Harrier II variant based on the American design (giving us the Harrier Gr.5/7/9).
The Harrier's ability to hover was a fascinating ability that found homage in popular culture, and it was most well-known for its appearance in the hollywood movie, True Lies (bet some of you guys still remember that scene well). It was reported that the film employed actual Harrier IIs from the USMC with their pilots, provided by the US government at a fee of $100,736 for about 4 hours ($2,410 per hour). Of course, this doesn't include expensive payloads and extensive support network to strategically deploy the aircraft...duh. That's where our tax money goes in haha.
Interestingly, Pepsi ran an ad for a Harrier jet up for grabs at 7 million Pepsi points, and someone actually used a loophole (to by points at 10cents each) to buy the jet for $700,000. He used a certified check (with his earned Pepsi points, to claim the Harrier jet from Pepsi, who of course did not fulfill the demand since the jet easily costs more than a million bucks. This led to a court case, with the judge deciding that the person had ought to know the ad was a joke, and he had no grounds in stating there was a breach of contract and fraud when Pepsi didn't fulfill his demand (details are at http://en.wikipedia.org/wiki/Leonard_v._Pepsico,_Inc.).
Interesting stuff huh?