Harloe there, and yet another week's feature. The last pic that i showed the Seahawk carrier is feauring the AV8Bs. Now i focus more on the ship's dynamics. This is the old micromachine mini carrier. Of course wif the scale of the micromachine planes, nothing is really in scale. So i felt that it would suit the 1/700 scale naval assets. and thus made it an amphibious assault carrier. The planes and helicopters actually look rather fitting on the flight deck. And so heres a pic of the flight deck for this week's feature.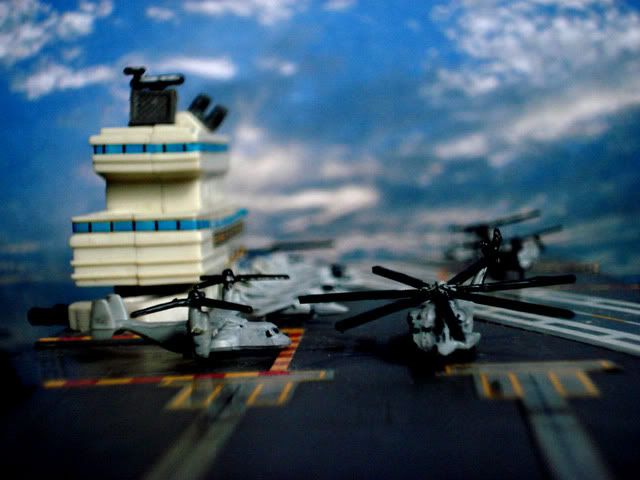 V22 Osprey for special operations and the CH53 for Marine Landings.
Both air units on standby. Alert 30.
And so my next project will be making the M1A2 conversions of the micromachines, and painting them well enough to look real. But giving them a grey colour code or desert one. Nothing much on the researching and exploring of other military models or stuff. Although im still keen on finding sites similar to modelwarship.com wif regards to armor and air units.
But till then. See ya soon