Hi Again. After Talking about Last weeks entry, Just felt like putting more pics that give me more memories of Blackhawkdown. here we have the AH-6 Little Birds and a Humvee near by. All vehicles were part of the movie.
A Did You know fact: The UH-6 has been modified and used as a UAV. It has been used for Unmanned Little Bird Programme to gain experience in Unmanned flight.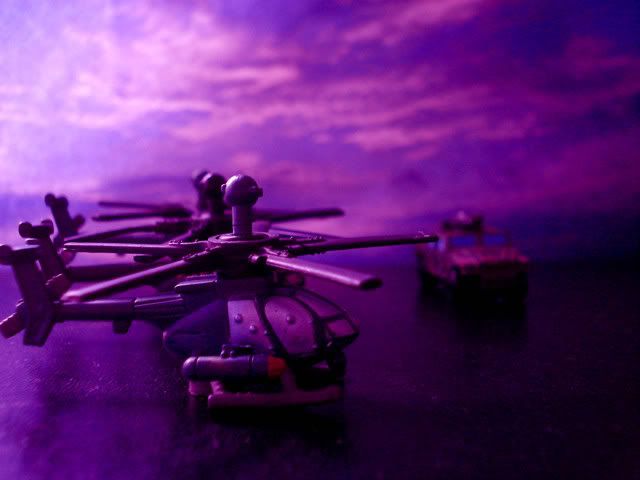 The Blue Hue over the Little Birds as a Hummer watch from the Side.
On a side note, although i have and will not be active for military model kits. I have a few more desire to expand my collection. Oh yes.. you bet yer. Im thinking of getting GHQ models for both Air, Land and Sea to paint, on top of what i have now. This will mean getting a collection of a different scale and also integrating the colour green into my collection. As for the near future, I will have to upgrade my Destroyer and fix more ships in the years to come.
Of which, I have a Kirov-class Cruiser, Pyotr Veliky to deal with. An US Amphibious Landing Ship and a few Russian Missile Corvettes to go. Life is hard. :p