Back again this week with another angle of the Tank detachment and the infantry squad.
This time round, the camera focuses on one of the tank and the infantrymen protecting the unit.
What i really like about the shot is the colour and the detail of the tank and the soldiers adopting defensive positions around the tank.
Furthermore, we see a myriad of task being involve in this shot. Previously, we show how the commanders are cooperating and discussing movement tactics. This shot focus on the overall picture.
Giving a view of different men playing their role in the defense of their convoy.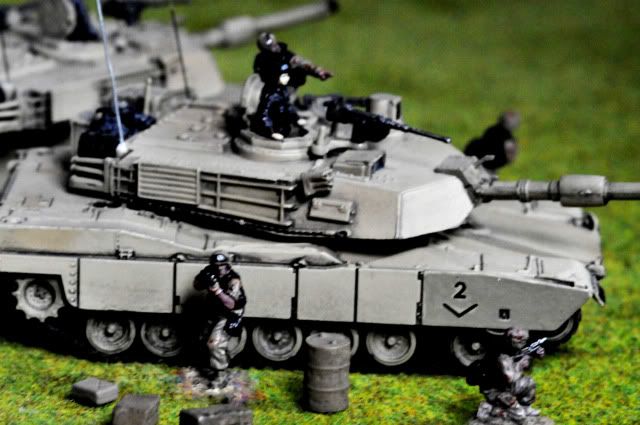 From this point of view, the camera really bring out the good qualities of the figures and the tanks. Making them look realistic and well painted.
Overall, there is a great sense of happiness to see how the DSLR has bring out a different type of quality that is easily distinct from a happy snapper. And i like the macro details.
And i do hope you enjoy the Figures too.
Woth regards to Modern Warfare Stuff,
COD4 Modern Warfare has been nominated in the BAFTAs for seven categories.
By BAFTA, i mean British Academy of Films and Television Arts. Call of Duty 4 Modern Warfare has been nominated for seven categories in gaming and this includes the Best Game category.
As Modern Warfare 2 begins. This is a good run for the best FPS i have played when it comes to military game.
http://www.gamespot.com/psp/sim/footballmanager2009/news.html?sid=6204501&om_act=convert&om_clk=newsfeatures&tag=newsfeatures;title;2
Check it out :)