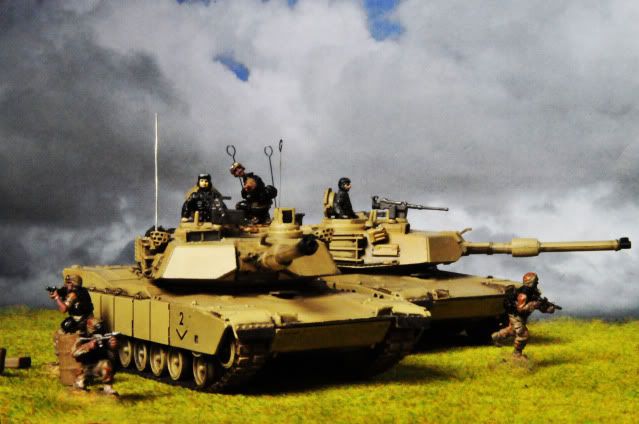 If anyone can spot the subtle discrepancy in this setup, you have my respect.
In any case, this is a tank detachment patrolling with its infantry squad. The sky begins to grey which gives the feel of impending firefight. (haha, thats just me trying to build up emotion.)
Well, i cant seem to think of any factual thing to say about this picture other than the fact that I freaking love Forces of Valour Figures.
Unfortunately, the infantry figures are sold out and retired (Not sure if i did mention this before). The M1A2 is also retired, but i think there is a different camouflage rehash of the 1:72 M1A2.
On another note, Construction of my Ticonderoga VLS Cruiser has slowed to a halt. This is due to the usual letup of work and other errands that i have to attend to. So while i stop on my military buildup, i have been browsing and checking out ready made stuff. Being a Modern Military Collector, i open up my range of stuff to more things that increasingly catch my eye.
On one instance, josh and I have been growing keen on the Mcfarlane Military Figures. Its amazing that a reasonably price figure can be so well done and so worth it. On top of that, i am into customising those 12 inch 1/6 Scale Action figures. I wanna plan to do a Modern Asian Dashland Infantry Soldier.
Basically, the model will be suited up in the typical modern outfit. (Mostly US, since they have the best stuff which isnt stereotyping, but stating the fact that they have one of the most advance types of infantry equipment.)
And soon enough, you will see these figures on the blog. So stay tune and keep a watch out on the figures. :)
Cheerios